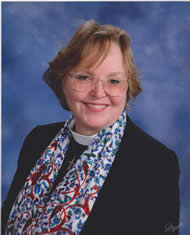 Reverend Anne McRae Wrede

The Reverend Wrede comes to us as an experienced pastor, having served in many parishes in the Episcopal Dioceses of New Jersey, Newark, Washington D.C. & Connecticut as well as Nottingham England and the Lutheran Synod of New Jersey. She is a graduate of Clearview Regional High School in Mullica Hill N.J., The American University in Washington .DC., and the Virginia Theological Seminary with a M.Div. focusing on parish ministry in the Episcopal Church. She has served as a priest for over 20 years in many New Jersey parishes including : Bradley Beach, Harrington Park, Maplewood, Vineland, Whiting, Swedesboro and as the Acting Dean of Trinity Cathedral in Trenton, NJ.

Before ordination, Mother Anne worked as a librarian for a daily newspaper in Connecticut and as a supervisor in the Congressional Research Service of the Library of Congress. She is married to the Reverend Richard Wrede , the Rector of Christ Church in Riverton, NJ. Their daughter, Kate, was graduated from Farleigh Dickinson University last year. Mother Anne enjoys gardening, natural history, wild birds, needlework and music. She has traveled throughout the US, Canada, Europe and in the Amazon rain forest. She is a new member of an award winning horticultural exhibitor team at The Philadelphia Flower Show.

While formally she is addressed as Mother Anne or Mrs. Wrede, many adult parishioners refer to her as Anne. "After all" she is often heard saying, "if first name basis is good enough for Mathew, Mark, Luke and John, also Mary and Martha, it should be good enough for me."
Deacon: The Reverend Fred Pray
The Rev. Fred Pray was ordained a Deacon in 1985 by the Rt. Rev. G.P. Mellick Belshaw at Trinity Cathedral in Trenton, NJ. Fred retired from the U.S. Air Force and the Air National Guard in 1988 as a Master Sergeant with 23 years of service. He then served with the Defense Contract Management Agency as a Quality Assurance Specialist until retiring in 2003.

Deacon Fred has served at Christ the King in Willingboro and St. John's in Maple Shade before coming to St. Stephen's. He has been involved in various forms of Prison Ministry for over 30 years. He has also been very involved in the healing ministry through the Order of St. Luke.

Here at St. Stephen's Deacon Fred sees his special ministry taking three directions; First through Prayer in the Geneserat Prayer Chain a nd prayers for those serving in the armed forces, then through the Healing and hospital outreach and finally through outreach to the larger community outside the red doors.